trydeepwork helps you master deep work and overcome distractions so you can accomplish your most important goals faster
Get started
Power Your Life with Power Goals
Focus on goals that matter and regularly keep in touch with them to avoid being consumed by daily tasks.
Break down your goals into actionable steps by planning with tasks
Accurately plan your tasks by estimating their required time
Schedule focused deep work time for faster task completion
Goodbye, pomodoro. Hello, flow.
Pomodoro method is like a video game where frequent breaks feel like annoying side quests, that make it difficult to stay focused and in the flow.
Improve your concentration skills by gradually pushing yourself to focus for longer durations
Start each session with a clear intention
Optional breaks that provide flexibility to help you stay focused and in the flow. No more mandatory breaks that interrupt your flow.
Reflect on your progress
Track your growth, celebrate your accomplishments, and set yourself up for success with regular progress reflection.
Stay motivated and track progress towards your goals with insights and analytics
Stay on top of your priorities with weekly, monthly and yearly summary emails
A shareable summary dashboard that highlights your achievements and progress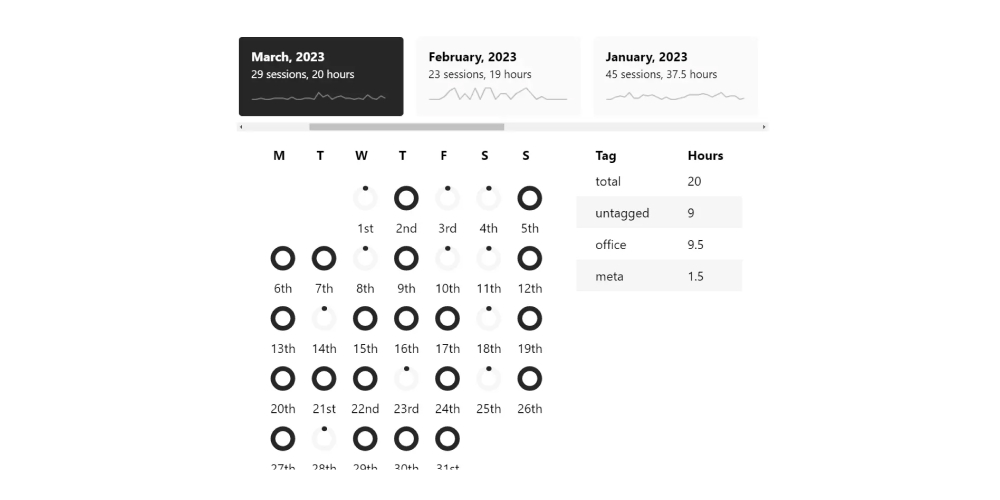 and there's more!
What were those rings?
Make each day count with daily goals
Make each day count by setting deep work hours and working towards it with purpose and intention
Push your limits with weekly challenges
Unlock your full potential and achieve your goals with weekly challenges that test your limits and inspire growth.
Earn Badges
Earn badges as you reach important milestones in your deep work journey and celebrate your progress.